How to Boost Your Residents' Engagement with a Digital Newsletter ( Part 2)

Linda Rooney
Last week we talked about the benefits of creating a digital newsletter for municipalities, boroughs, townships and local government bodies.
Digital municipal newsletters are online publications that you can send to your residents via email, social media, or your website. They are a great way to share news, updates, events, tips, and more with your audience. They are also more interactive, attractive, and eco-friendly than traditional paper newsletters.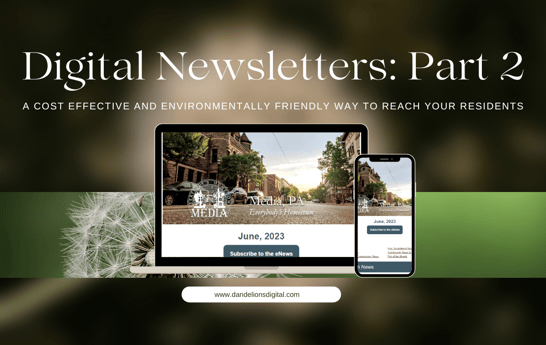 We discussed some of the benefits of creating digital municipal newsletters:

- You can save money on printing and mailing costs.
- You can reach more people and expand your audience.
- You can track and measure the performance of your newsletters using analytics tools.
- You can use multimedia elements such as images, videos, audio, and links to make your newsletters more engaging.
- You can get feedback from your residents and encourage them to participate in surveys, polls, quizzes, etc.

Sending a township newsletter can be done in a few simple steps. Here's a general outline of the process:


Build a mailing list: If you're sending the newsletter via email, compile a list of email addresses of the recipients. Make sure to obtain permission from individuals before adding them to the mailing list

Collect and organize content: Gather relevant news, updates, and announcements that you want to include in the newsletter. This can include upcoming events, community initiatives, important notices, and more. Think about what topics you want to cover, what tone you want to use,

Design the newsletter: Use a newsletter template or design software to create an appealing layout for your newsletter. Make sure to include a header, sections for different topics, images, and contact information.

Plan your content and design ahead of time. W

hat colors and fonts you want to use, etc.

Write catchy headlines and subheadings that grab attention and spark curiosity.

Use short paragraphs and bullet points to make your text easy to read and scan. Add relevant images and videos that support your message and enhance your visual appeal.

Test and proofread: Before sending the newsletter, double-check for any errors or broken links. Send a test email to yourself or a colleague to ensure everything looks and functions as intended.

Send your newsletters regularly and consistently. Choose a frequency that works for you and your audience, such as weekly, biweekly, monthly, etc.
Remember to respect privacy and comply with any applicable data protection laws when collecting and using personal information for your newsletter.
Creating digital municipal newsletters can be a fun and rewarding way to connect with your residents and increase engagement with your community. Try it out today and see the difference it can make!
Contact us today to get some advice and we'll help you get started! We look forward to hearing from you!